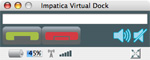 Impatica viaDock Version 1.1.5
Copyright 2010 Impatica Inc.
Thank you for selecting Impatica viaDock.
Impatica viaDock allows you to access your BlackBerry from your computer, enabling you to enjoy the comforts of your PC monitor and keyboard while operating your BlackBerry. Whether you wish to securely access enterprise applications from home, interact with your BlackBerry applications as PC applications, or simply want the comfort and convenience of your large screen and keyboard, Impatica viaDock lets you get more from your BlackBerry.
System Requirements
——————-
Computer:
- Windows XP, Vista and Windows 7; OR
- Mac OS X 10.4 or higher
Installing PC Software
Install the Impatica viaDock application on your Windows or Mac OS X computer as follows:
Windows
Once downloaded, double-click the file to install the application.
Once it is installed, you will have both a desktop icon and a program entry for "Impatica viaDock".

Mac OS X
Once downloaded, the file will automatically mount the volume "Impatica viaDock". If this volume is not mounted, double-click the file Impatica-Virtual-Dock.dmg.
Open the "Impatica viaDock" volume by double-clicking it or by selecting it in the Finder. Click and drag the "Impatica viaDock" icon to your hard drive (e.g., to the Applications folder) to complete the installation.
If you wish, drag the Impatica viaDock icon to the Mac dock.
You will be prompted to register your copy of Impatica viaDock the first time you run it.
——————-
Handheld:
- BlackBerry smartphone with device software 4.2.2 or higher
Installing Impatica viaDock software on your PC
———————————————–
Install the Impatica viaDock application on your Windows or Mac OS X computer as follows:
On Windows:
1. Double-click the installer application "setupviadock.exe".
2. Follow the on-screen instructions until the installation is complete.
On Mac OS X:
1. Double-click the file "Impatica-viadock.dmg" to mount the volume "ImpaticaviaDock" if it is not already mounted.
2. Open the volume "Impatica viaDock".
3. Click and drag the application "Impatica viaDock" on to your hard drive wherever you wish to install it.
Installing Impatica Connector software on your BlackBerry:
———————————————————-
Install the Impatica Connector application on your BlackBerry smartphone using one of the following techniques:
Over-the-air:
Get the link http://www.impatica.com/bb on your BlackBerry and download the application directly onto your BlackBerry.
From your PC:
1. Download the Impatica Connector application files to your PC from http://www.impatica.com/bb/
2. Click on the "Download ZIP from your PC" button in the "Project your Screen – Impatica Connector" section of the page (Section 2).
3. Extract the contents of the ZIP package. The ZIP package contains a folder that will house all of the files contained in the zip archive.
4. Use the BlackBerry Desktop Manager Application Loader to install the application on your BlackBerry using the ImpConnecter.alx file.
Once the application has been installed on your BlackBerry, the application permissions may need to be adjusted to allow the Impatica Connector application to capture the contents of your BlackBerry screen and to receive input from your computer.
or
Click d' picture to Download
SerialKey
No need Pin just register your PC w'
Name : User-090925-W11
Organisaztion : GL8
Reg Code : SLNC BZNL DZYD FWEG
Btw..., bb dan pc ttp tersambung usb.

Kedua app u' BB, dua"nya d download via BB (app format OTA).
Stlh slesai d download, pilih allow than klik impatica connector yg ada d BB kita..
Trus tar ada notif lg search usb connection..
Buka impatica yg ada d PC..

Binggo...!

Moga" bsa d pahami penjelasannya yach...
Aku rada bngung jelasinnya... >.<
ini sum pic of impatica device di pc aku...